Our next Cooking Class with Chef Ash will be:
November 24th at 1:00 pm – 4:00 pm


SIGN UP NOW!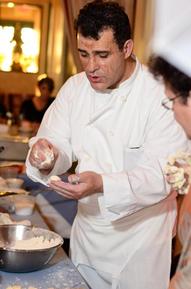 Reservations are required. Seats are filling up fast. Classes are $45 per person, excluding drinks, tax and gratuity.
(If you'd like wine with dinner, please remember to BYOB.)

Inquire about having a private class during our next cooking event. Available for groups of 20 or more.
Cooking Class Menu for November 24th

– Sweet Potato Ginger
– Feta Cheese Zucchini Cake
– Sicilian Rice Balls
– Spanakopita
– Quinoa Lentil Salad
– Sweet Potato Gnocchi with
Turkey Giblets
– Cider-Braised Turkey with
Star Anise and Cinnamon
– Cauliflower and Raisin Casserole
– Eggplant Caponata
– Pumpkin Banana Foster Bread Pudding
– Warm Caramel-Covered Dates